Content
Content Sharing
On TikTok, users have the ability to share any post they see on their feed. In order to share a video, users must tap the arrow located in the bottom right hand corner. Once the user has clicked the share arrow, a variety of methods to share are displayed. These options include the ability to share the video through copying the link or sharing it on another social media platform such as Snapchat, Messages, Facebook messenger or Instagram.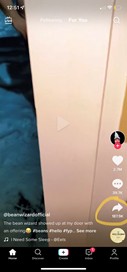 Privately Sharing Content
When a user initially creates a TikTok account, the videos and comments are set to be public. This means any TikTok user can access the content and follow the account. However, TikTok does have Privacy settings that allow the account to be changed to private. When the account is set to private, the account holder can approve or deny follow requests and only their approved followers can view the content.
Even if the account is set to public, the account holder has access to edit the privacy settings on individual videos. These privacy settings allow users to allow everyone access, only the followers that users follow back, or only the account holder to view the video.